Before installing WordPress, please check to make sure your hosting account has MySQL database. The recommended Hosting Plans for WordPress are, Economy, Premium, Premium Plus Plan.
1. Download WordPress from http://wordpress.org/. Unzip Wordpress files onto your computer.
2. Open up wp-config-sample.php with a text editor like WordPad or similar and fill in your database connection details.
To find out about your db_name, please login to your Hosting Panel --> MySQL Admin. The username and password by default will be that of your hosting account's. You do not need to change localhost.
Save the file as wp-config.php
3. Use a FTP client such as CuteFTP to upload WordPress files into your Hosting Account. Under FTP Host, enter either ftp.ehosting.ca / ftp1.ehosting.ca / ftp2.ehosting.ca /ftp3.ehosting.ca/ ftp4.ehosting.ca or ntsrv.mecca.ca / ntsrv1.mecca.ca / ntsrv2.mecca.ca / ntsrv3.mecca.ca / ntsrv4.mecca.ca depending on your account setting.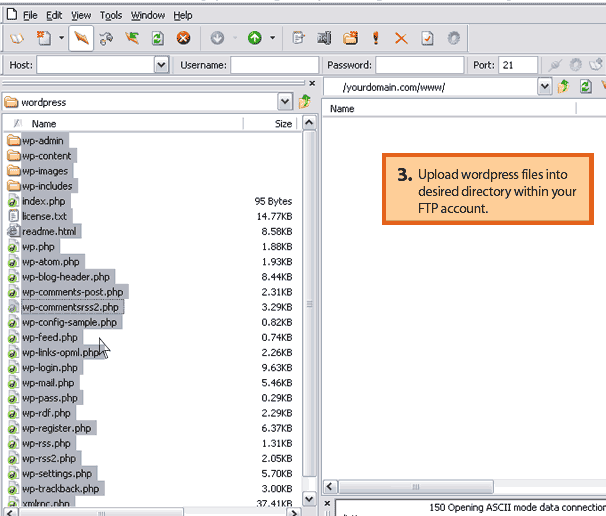 4. Launch http://yourdomain.com/(your directory)/wp-admin/install.php in your browser.
5. The install script will send you login page to your email. Sign in with the username admin and the password provided in the email. To change passwor, click on Profile.
6. Installation is complete. You now have your own WordPress blog.